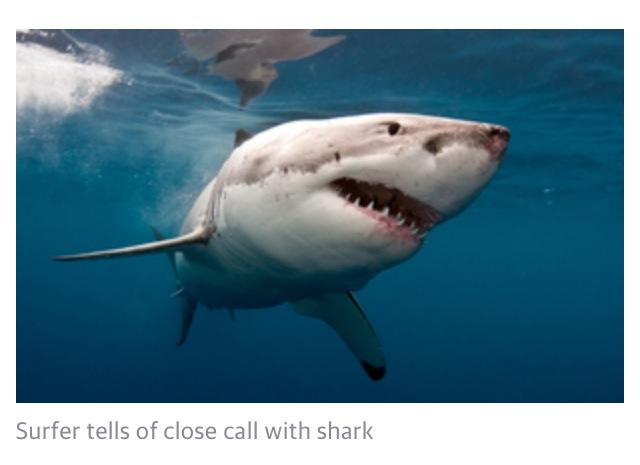 A Busselton surfer who was attacked by a 3m white shark at Bunker Bay last week has spoken out.
Mark Stojanovski miraculously survived the attack unscathed after using his surfboard to defend himself and is warning other surfers to take extra care.
Mr Stojanovski said he was surfing with a mate about 50m off Bunker Bay last Tuesday morning when he noticed what he thought was a large chunk of weed underwater.
He was watching the weed to see if he was drifting when the attack happened.
"It was only moving really slowly even at that stage … I didn't pick it as a shark until it was four or five metres away," he said.
"The shark came at me and something came upon me to defend myself. My mate saw the whole thing and he said the look on my face was pure terror."
The father of two said his first instinct was to flick up his surfboard as a barrier and must have hit the shark on the nose in the process.
After the contact the shark continued to hover about 3m away, but Mr Stojanovski's friend paddled over and the two managed to catch waves back to shore.
Mr Stojanovski said he spoke out because he was worried another attack would happen before the end of the summer.
He said he had seen three white sharks in the past 18 months.
"(I want) to warn other people — don't concentrate on the horizon, always be looking around," he said.
"The only reason I'm here is because I saw (the shark) coming."
The attack happened at the same place Kyle Burden died two years ago.
Mr Stojanovski has been surfing for 30 years but said he did not know if he would ever get back in the water.
"Hopefully one day, but it's not on my shortlist at the moment," he said.
Sources: Busselton Dunsborough Times and SouthWest Shark Alerts
Are you currently in WA? What are your views about the government's new laws?
All the best,