The flight team just put together these return flight deals from February onwards. As you will see late June/July is crazy expensive as the team predicted.
If you missed the email a few days ago about the layovers in Singapore for June/July check it out here.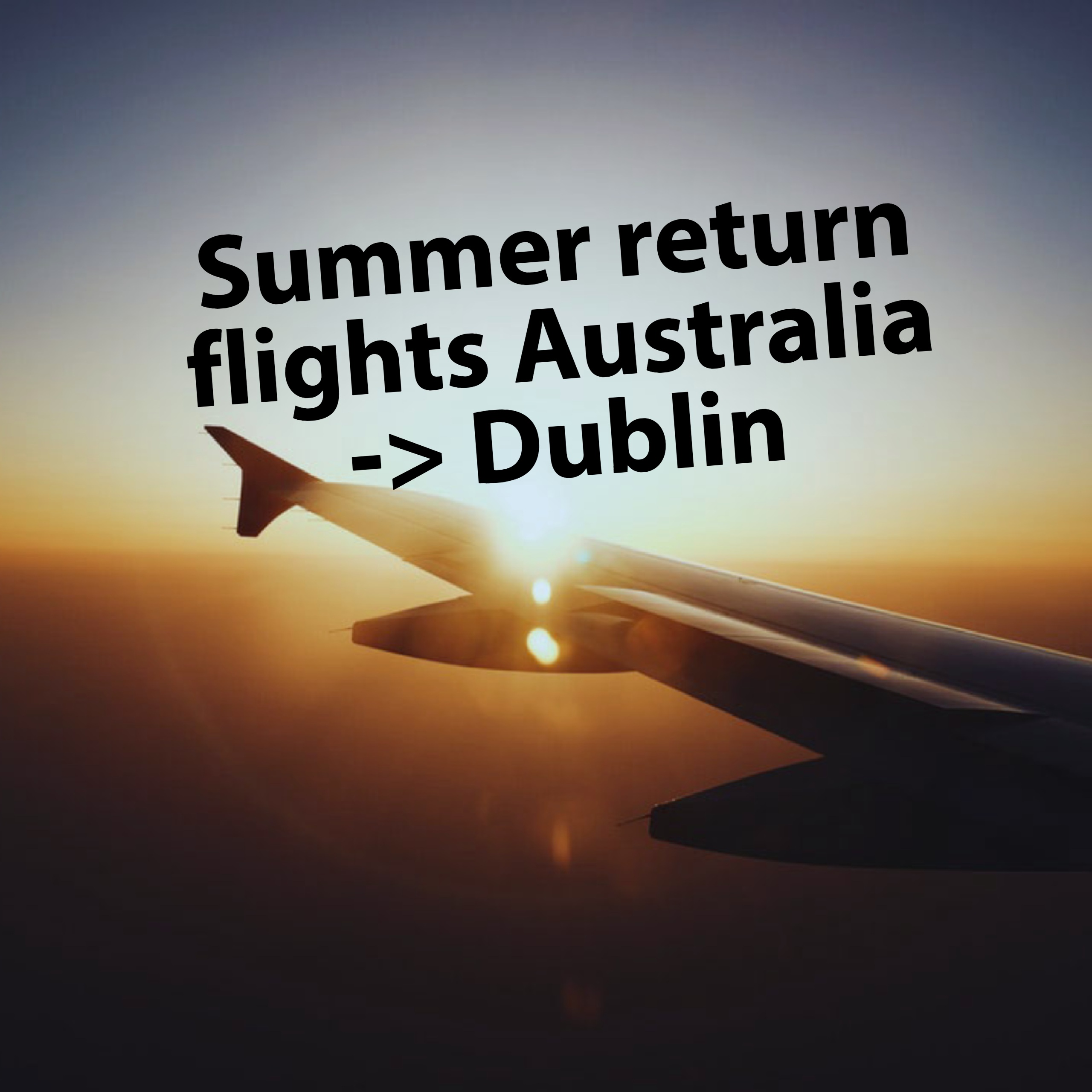 All passengers First and last name as per passport
Dates of Birth
Contact number
Departure city and dates
Let us know if you are a teacher or student
Or you can call us at (02) 8374 9922
Exclusive deals for you:
Now onto the flights. These are all return airfares to Dublin:
These flights are mostly Qatar, Etihad and Emirates, for Adelaide, the'are just Emirates and Darwin is a two-stop option.
All fares have baggage, meals and Etihad fares can be Lay By(just pay a deposit and you can pay off your fare over a few months), and some of the fares are sale fares, and we will need full payment.
You do not have to be a student to use this service.
Sydney
February – $1163
March – $1099
April – $1440
May – $1299
Early June – $1472
Late June/July – $2451
Brisbane:
February- $1210
March – $1187
April – $1213
May – $1189
Early June – $1396
Late June/July – $2211
Darwin:
February – $1466
March – $1398
April – $1299
May – $1250
Early June – $1665
Late June/July – $2323
Melbourne:
February – $1252
March – $1252
April – $1579
May – $1278
Early June- $1688
Late June/July -$2587
Adelaide:
February – $1202
March – $1303
April – $1251
May – $1153
Early June – $1498
Late June/July – $2348
Perth:
February – $1138
March – $1238
April – $1195
May – $1355
Early June – $1255
Late June/July – 2265
7 Reasons to book with Irish Around Oz flights:
If you don't know we have partnered with Student Flights in Randwick, Sydney to bring you some of the best and cheapest flights to Ireland.
Not only that but every month we break down the cheapest fares over a two week period in that month.
We also include nearly all of the top locations in Australia
You can layby certain flights! This means you only pay ~$99 to reserve your airfare and can pay it off over a couple of months.
We have been partners for over two years, and thousands of Irish people living in Australia have booked their flights home with our team.
Irish Around Oz have used a few different flight partners over the years, but no one has come close to the support and dedication of the team at Student Flights in Randwick.
Get free updates straight to your inbox by signing up here.
– All passengers First and last name as per passport
– Dates of Birth
– Contact number
– Departure city and dates
– Let us know if you are a teacher or student
Or give us a call at (02) 8374 9922
**Fares from Darwin must be paid in full at time of booking (they are not eligible to lay-by).**
Cheers,
Stephen Palmer and Student Flights Randwick