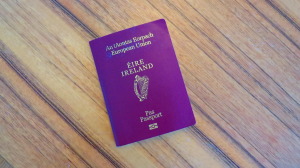 Over the past 12 months at Irish Around Oz and surrounding Facebook pages, we have received hundreds of questions about what to do if they lose their passport in Australia.
Unfortunately, it happens and when it does it is important to take the proper actions to get a new passport.
Having a look around the internet there is so much information scattered everywhere we have put the most relevant into this article :)
A lot of this is covered by good Travel Insurance, we use World Nomads for both our Australian trips and travelling to Bali, Thailand etc.

Some important things to keep in mind:
If you are an Irish citizen currently living abroad, travelling or on holiday abroad and your Irish passport is lost/stolen/misplaced, you must contact your nearest Irish embassy or consulate immediately.
Any passport reported as lost or stolen is no longer a valid travel document and you should not try to travel on a passport which has been reported as lost or stolen.
If you have a poor passport record, (that is, you have lost two or more passports) it is likely that a limited passport facility will be given to you for specific travel purposes.
On each occasion on which a new passport is issued to you, (even when the passport is being issued for a limited time) you will have to pay the full cost of this passport.
In certain circumstances, for example if you lose your passport abroad but will be returning on a single journey directly to Ireland, an Emergency Travel Certificate rather than a passport will be issued by the Irish embassy or Consulate.
Emergency Travel Certificates are only valid for one journey. An Emergency Travel Certificate is not a passport; it is a document (about A5 size) that carries your photograph and a stamp from the embassy verifying your identity. Emergency Travel Certificates are generally issued very quickly (depending on the circumstances) and there is a small fee for this service
Rules when applying:
It is not possible to obtain a replacement passport if you have lost your Irish passport. Instead, you must apply for a new passport as if you were applying for the first time.
An Emergency Travel Certificate only allows you to travel on a single journey from a point abroad directly back to Ireland. Emergency Travel Certificates are usually hand-written and are not machine-readable.
All Irish embassies and Honorary Irish Consuls abroad can issue Emergency Travel Certificates.
Only Irish embassies and three Honorary Irish Consuls abroad can issue Irish passports. (These Consuls are located in Hong Kong, Perth and Auckland).
Irish Passport Costs:
This is according to the Citizens information.ie be sure to check for updated prices
Standard 10-year, 32-page passport (aged 18 and over): €80
Large 10-year 66-page passport (aged 18 and over): €110
5-year passport (children aged 3-17 years): €26.50
3-year passport (children aged under 3): €16
The fee for an Emergency Travel Certificate is €15.
What you will need to submit
This information is according to the consulate of WA
You will need to submit:
A completed Application Form. Where the previous passport has been lost/stolen you must get the Section 6 'Statement of Loss' completed and signed by a police officer who must also witness your signature in Section 9;
4 photographs, 2 of which must be signed on the back by the witness;
Your original long form birth certificate. If you do not have your original birth cert here in Australia a new certificate you can source a new certificate from the HSE at www.certificates.ie
Alternatively a family member can present to the local Garda Station and request that the Gardaí certify that they have seen the original and fax the certified copy directly to the Consulate (fax number +61 8 9218 8433).
Proof of your entitlement to Irish citizenship. In many cases, where people were born in Ireland, the original long form birth cert will be sufficient proof.
However, if you are not born in Ireland you will also be required to submit an original long form birth cert for your Irish-born parent, or an original FBR/Naturalisation certificate;
If any name change has occurred you will be required to supply original documentation evidencing the change of name;
Additional form of photo ID eg drivers licence, passport of another country, work ID, student card;
Proof of name use eg bank statements, payslips.
Proof of address eg utility bills, official correspondence.

The Consulate and Passport Office reserve the right to verify documentation and to request further documents. Applicants may also be required to attend for interview. It is not possible to expedite applications for first time adult applicants or where the previous passport has been reported lost or stolen.
In certain cases, the Passport Office may restrict the validity of a replacement passport.
If you find an Irish passport, we would be very grateful if you could please return it to:
Passport Officer, Honorary Consulate of Ireland, 1/100 Terrace Rd, East Perth WA 6004.
What to do when you get a new passport? Very important!
If you have been issued with a new passport since your Australian visa was granted, you must notify us of your change of passport details to ensure that your record is up-to-date.
As your electronic visa details are linked to your passport, failure to update your passport details may result in delays when travelling to Australia. You or a registered Australian organisation may also be unable to check your visa conditions and entitlements online.
To update your passport details use Form 929 Change of address and/or passport details (260KB PDF) and return the completed form to the nearest office of the department.
Hope you find this information helpful! Don't forget to share with others so they know what to do as well.