So you are looking to set up an online business in Australia?
This is not our typical posts but since our business is 100% online, we felt it was only fair that we write a post on how to set up an online business in Australia.
There is a ton of ways to set up an online business, but this guide is going to cover mainly the services we use, why we use them and of course how you can use them too.
A lot of people think it is hard to set up an online business in Australia, but the reality is it's pretty easy. Well with the right advice of course.
Types of online businesses:
Websites – Typically a 4-10 page website outlining your services, about page, what you are selling, etc.
Online shop or marketplaces – something like Target
Blogs – like this one
Social media – You can just run a business from a Facebook page.
There is 100's of resources you could use when setting up an online business but we are just going to stick with what we have personally used here or in the past.
We have broken it down into the steps to setting up an online business in Australia:
Step 1 on how to set up an online business in Australia:
Domain + Hosting
Get a good hosting provider – You can't do anything until you can host you website(domain name) on the internet.
This blog has been running on just a simple Godaddy deluxe(now Ultimate) hosting package for the past two years and never gone down(and we have had well over 3 million visitors!).
We have also used Blue Host in the past who are just as good if not better.
Get a domain – A domain is your URL e.g., IrishAroundOz.com, there is a TON of options available when setting up an online business in Australia.
Personally we advise just going for a .com or .com.au
If you want a .com.au, you must have an ABN(Australian business number)
An excellent tool is LeanDomainSearch.com, just type in your keyword e.g., Australia and it will give you a full list of available domains with a lot of similar words. Just look below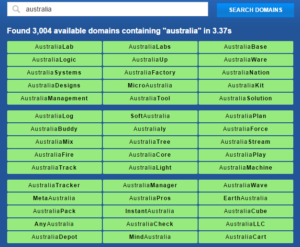 We have used Godaddy for all of our domains, simply can't be beaten on prices.
*It's also quite easy when you have both the domain and hosting with the one provider.
Godaddy will try and sell you additional services such as search, email, and lots more services.
Personally we don't use anything else just the ultimate hosting and domain.
To start, I would recommend the deluxe hosting as you can have an unlimited amount of domains on the one hosting account and can always upgrade later.
Just to summarize based on our personal experience use:
Total cost per month:
Deluxe Hosting with Godaddy: AU$11.06(prices vary from month to month)
Domain name: AU$4.24 for the first 12 months(10-15$ after that)
Step 2 on how to set up an online business in Australia:
The online business requirements in Australia
Firstly get yourself an ABN(Australian business number), they are very easy to apply for, and you can get one in about 1-2 weeks.
Assuming your living in Australia, you need a bank account. Ideally Australian to receive payments, make payments and just general ease of use. You can use for example an Irish bank account.
Get a Paypal business account – if you are planning on receiving or sending any money online, the Paypal is probably the easiest to get started.
If you want to set up an online shop, there are a LOT of choices.
We don't sell any products online here, but our top 3 would be:
WooCommerce – works great with WordPress
They each charge a monthly fee for premium services but are all excellent services. Shopify would be our top pick.
Total cost per month: AU$10-$50 for ABN and online shop services
Step 3 on how to set up an online business in Australia:
Install WordPress!
It has to be the best service ever. Mostly with one or two youtube videos you can know how to use WordPress in a matter of minutes.
Over 70 million websites run on WordPress, including this site.
WordPress is not just for blogs; you can use it for shops, forums and pretty much anything you want.
It takes less than 10 minutes to install WordPress on your site, especially if you are using Godaddy.
You just log in to your server and click install WordPress.
WordPress is simply a way of managing your site. It is a content management system; basically you can install plugins, themes and can have a good looking website in a few hours.
I'd go with a free theme, there are thousands of paid themes but just to get started get a theme that you like, you can always change it later.
You will now be one step closer to setting up your online business in Australia.
Step 4 on how to set up an online business in Australia:
Additional very useful services:
Okay ideally by now you have a website up and running but there are a few more services that we use, that a lot of you will also need.
Email – We experimented with various email services, but hands down Gmail is the winner.
Costs are only AU$5 p/m for you domain email. Eg [email protected] Again with Godaddy, you can just log in through Gmail and takes about 1 min to get everything set up.
Check out Gmail for business
2. Leadpages – Man oh man we love this tool! There is a bit of a learning curve initially but trust us when you have it running you can make amazing landing pages, opt-in boxes, and many more services.
*It is an expensive cost per month but a must have if you are looking to grow your email list or your new business*
Here is an example of one of their lead pages: Irisharoundoz.com/resources, Irisharoundoz.com/pdf, Irisharoundoz.com/free, Irisharoundoz.com/visa and many more!
Costs range from AU$25 – $50 per month. We recommend the Pro Annual plan that is by far the best value for money.
3. SumoMe – Good news this one is FREE, you see the share buttons or opt in boxes that pop up? That's SumoMe, awesome service and the free version works fantastic.
4. Google Analytics – Track all your website visitors, what they are doing and view some awesome real-time statistics.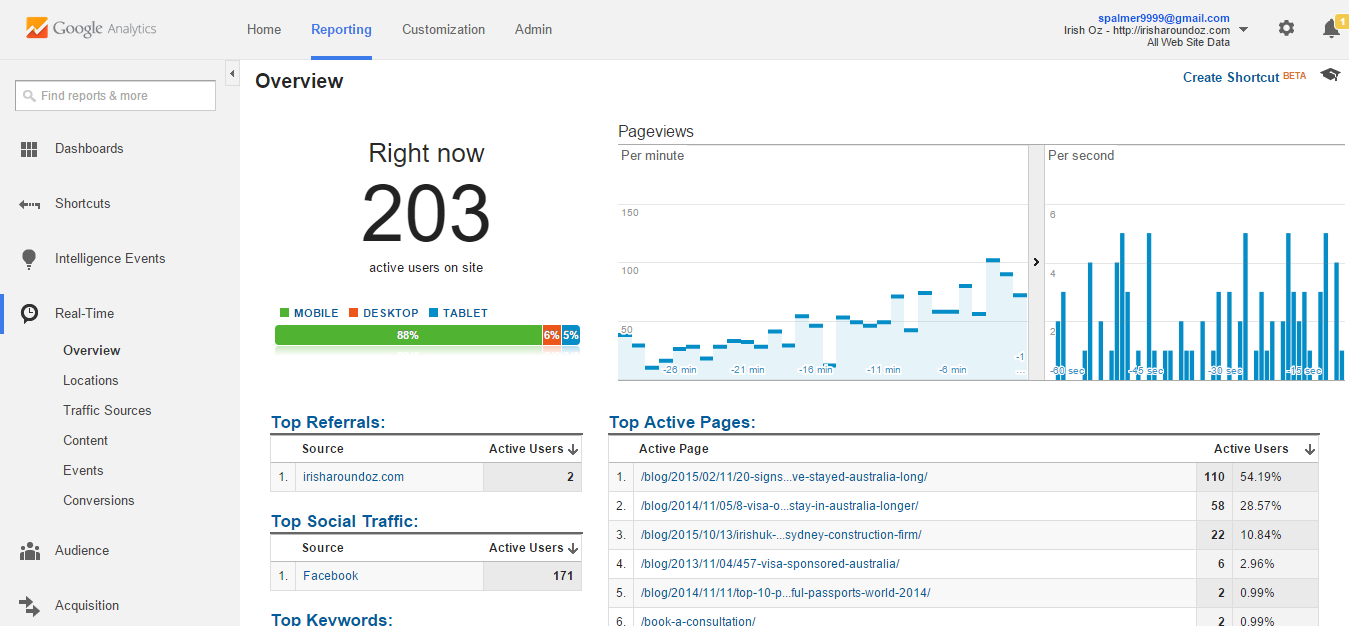 5. Google Adwords – If you want to advertise on Google, this is how you do it.
6. Email service provider – At the start we used Mailchimp but have since moved to Aweber. Both are great companies and if you plan on emailing your customers use one of them.
Congratulations you now should have an online business up and running in Australia.
The easy part is getting started; the hard part is growing your online business.
We looked at other articles about setting up an online business in Australia, and frankly none of them covered what we felt was necessary.
So to summarize you can start an online business for ~AU$15 p/month or splash out and pay ~AU$500 upfront with a monthly cost of about AU$50 p/m.
Either way it is MUCH cheaper than setting up a physical business in Australia.
So whether it is a blog or a million dollar shop you plan to launch we hope that this guide to setting up an online business in Australia will help you get there.
What services have you used? If you have any further questions just shoot us a tweet @IrishAroundOz
Thanks for reading and here is to your online business! We are affiliated with some of the services above at no additional cost to you.
We also have personally used nearly all of the resources mentioned above. So go now and set up your online business in Australia, Good Luck!