Confused about how does CurrencyFair work and why you should use them to send money from Australia to Ireland?
No worries, I have broken down this guide to explain exactly how it works and basically why you should use them for money transfers.
If you are a long-time follower of the blog, you will know that I have recommended CurrencyFair from all the way back since 2013.
You might have noticed CurrencyFair has just updated their website and we wanted to explain to you how CurrencyFair works and how you could potentially use it to send money abroad.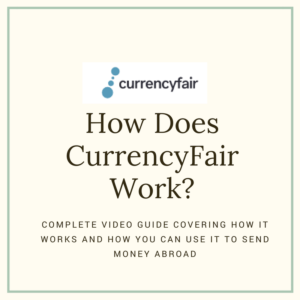 Some important facts about CurrencyFair:
Free to get started
€3 transfer fee(Use this link to register and get your first three transfers for free!)
€4BN+ exchanged
24-48 hour exchange time
0.35% commission compared to 4-6+% with banks!
Over €147 million saved by their customers.
So how does CurrencyFair work?
It is all good us saying
Go check out CurrencyFair for the best way to send money from Ireland to Australia."
I remember when my friend first told me about them when I arrived in Perth in 2013.
It went something like this:
Me: Some dose, I'm waiting for Bank of Ireland to send my money to my Oz account!
My friend: Here why don't you just use CurrencyFair?!
And I was like
Nah sure ill just use my bank way easier!

What is CurrencyFair?

Is it like a bank?

Do I send money from my Oz account to Irish account and what is the story with the rate?

What do you mean it is cheaper than banks

What do I need to sign up, what is peer 2 peer? lol?!
So I imagine your probably have similar questions about how does CurrencyFair work.
So I am sure many of you who have not signed up to CurrencyFair or are reading this for the first time would like to know just how does CurrencyFair works and why you should even use them to send money from Ireland to Australia.
Since signing up to CurrencyFair all the way back in 2013, I have sent money from Australia to Ireland from Ireland to Australia from Australia to Canada from Ireland to Australia and so on.
It can seem a bit confusing at first with all this talk of "peer 2 peer transfers" and "beating the interbank rate".
Most of the time all we want is to just get the money into our Australian bank account so we can use after quickly realising that the cost of things in Australia was way higher than we had thought.
How do you send money with CurrencyFair?
Okay for this part I am just going to break it down for you the easiest way I know, and then you can watch the CurrencyFair video below it.
I will give two examples one from Ireland to Australia and one from Ireland to Canada.
Then go into the costs involved versus using a bank. If you haven't yet registered with CurrencyFair, you can use this link to get your first transfer for free(typically only €3).
Example 1: Sending money from Ireland to Australia with CurrencyFair
So you have arrived in Australia on a working holiday visa and need to send money from your Bank Of Ireland account to your new Commonwealth bank account.
You have registered with CurrencyFair reserved your free transfer using our link done all the verification(proof of address, proof of ID, etc.bank) and are ready to go.
You will also need to add your bank account details for Ireland and Australia. If you have not moved to Australia yet, don't worry as you can still set up the majority of things.
Just keep in mind that CurrencyFair sends you a text verification for adding a new account and yes you can call them to switch your phone number to your new Oz number, but it is just easier if your Irish sim still works in Oz when you get the new bank details.
Step 1: Send money from local bank to local bank
So you send for example €3000 to your CurrencyFair account which is also in Ireland.
This means zero charges to send the money to your CurrencyFair account.
The money normally arrives in about 1 – 2 days.
Once it arrives you can either exchange it to AUD on the marketplace where you can select your desired rate.
Or just do as I do and exchange it the marketplace. Then when you have your AUD, you just send it from the local Australian account to your local Australian account for only €3!
So you have saved money by not technically sending money internationally. You don't pay crazy fees that BOI charge to send, and you don't pay a fee to receive the money.
That is essentially how CurrencyFair works; the following video explains in a bit more detail:
Example 2: Sending money from Ireland to Canada
So as you can see from the above example, it is relatively easy once you have done it for the first time.
The same goes for sending money to Canada. It is essentially the same process.
As many people are now finishing their working holiday visas in Oz and moving to Canada, they again need to send money from Ireland.
There is no problem sending money to Canada, and you can do it the same way as above from your BOI account to your TD account, CIBC, Scotiabank etc. or whatever bank account you decide to open.
But there are two things to consider.
It does take a bit longer to receive the money anywhere from 3-5 business days. Just due to the way with regulations in Canada. It still costs the same only €3 to send money.
Sending money from Canada to Ireland is not as straightforward. With banks like TD Direct, you have to go into the branch to send money. Which is a pain if you are not in the country or are somewhere far away from a branch. Hopefully, it will change soon. You can read more about sending money to Canada here.
Why is CurrencyFair so much cheaper than banks?
I am sure some of you are still thinking
"Is it worth it? It seems like a lot of effort when I can just send money to with my bank in like 5 minutes!"
I thought this too when my friend first told me about CurrencyFair, in fact, I didn't even use them when I first sent money over.
About one month later after spending way more than I had expected to pay in the first month, I needed to send some more money from Ireland to Australia again.
So I immediately thought, I'll just log in and do the bank transfer.
Except for this time I had a quick look at the CurrencyFair website where they had this calculator and typed in what I was going to send €3000.
If I remember correctly, the calculator said something like
"If you use CurrencyFair you will get $150AUD more."
$150! That could have paid for my night out in Crown Casino last night(well some of it haha).
Keep in mind this was before Irish around Oz even existed.
So I signed up to CurrencyFair which took me a few days as I didn't have the correct proof of address etc. anyway one week later I had the money in my Commonwealth bank account and never looked back since.
Bank Of Ireland charges 4-6% on the exchange rate compared to 0.35% with CurrencyFair! Big difference. You can register here and get your first trade for free using this link.
For more info just watch this video on how does Currencyfair work:
Other reasons you might use them is:
If you have a loan in the credit union, I had a 2k loan which I had to pay back which was just being debited from my BOI account. So when I had a bit of extra cash in Oz, I would just send back a few hundred dollars which only cost me €3 each time.
You want to save some money from Oz – about a year later I came home for Christmas and connected my BOI to the credit union so I could just log in online and send money to my credit union account whenever I had some extra cash in my account. So when I would send money back for the loan, I would also send an extra $50 – $150 for savings. Main reason was it helped me save with virtually no way of getting access to it until I returned to Ireland. Highly recommend this if you struggle to save.
Your parents are sending you money from Ireland to you in Australia; they can save a lot on the exchange rate. You can, in fact, use CurrencyFair for third party payments such as hotels, grandchildren, etc. Just watch the video below:
So why is CurrencyFair so much cheaper?
CurrencyFair is a peer-to-peer marketplace.
Now, what does that mean?
Well, instead of exchanging money with a bank, you're exchanging money with people who are going in the opposite direction to you.
So for everyone who wants to sell euros and buy Australian dollars, there are people who want to sell Australian dollars and buy euros.
CurrencyFair matches you up.
That means that you're always going to get a great exchange rate.
Also, they have a local bank account set up in each jurisdiction, so when you deposit into CurrencyFair, it's free of charge.
Once you have everything set up, you can send money from Australia to Ireland in less than a minute on their mobile app.
If you are still unsure as to how does CurrencyFair works then this short video animation will explain in more detail:
Conclusion on how does CurrencyFair work
Okay, I hope that if you didn't know how Currencyfair works that you now know.
Be sure to read my original money transfer article if you would like to see some other companies and options for sending money to Ireland.
If you have not signed up with CurrencyFair yet be sure to use this link to reserve your first transfer for free.
Banks charge you anywhere from 4-6% on their exchange rate, which is basically like daylight robbery.
In the 3 years that I have used CurrencyFair, I have probably saved myself close to $1000 on bank charges.
So rather than giving more money to the banks I highly recommend you use Currencyfair.
Thanks for reading. Hope you now know how does CurrencyFair work.
Comment below and please share this article via Facebook, Twitter, etc.
We are affiliated with CurrencyFair and do receive a small commission should you decide to use them. This is at no additional cost to you and we have used them since 2013 to transfer money abroad.
Hope you are now all caught up on just how does Currencyfair work :)