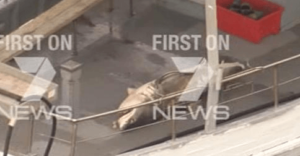 Earlier today, a dead 2.5 – 3 metre great white shark was pulled from the nets off Australia's most famous beach, Bondi.
The NSW Department of Primary Industries said "a male great white shark of approximately 2.5 metres in length was found in a shark net off Bondi Beach" on Wednesday morning.
Television images captured by the Seven and Ten new show the shark lying on the deck of a fishing boat and later being hauled off the boat to shore.
A scare for swimmers at #Bondi today with a 2.5m Great White Shark pulled from the nets. pic.twitter.com/dyszy6KrVE

— 7 News Sydney (@7NewsSydney) November 19, 2014
Thenetsare designed not to stop the sharks from entering a beach — they do not touch the bottom — but serve as a barrier to deter sharks from establishing a "territory". The NSW shark meshing program has been in operation since 1937. Contractors check nets at least every 72 hours and on average three times a week. Were you swimminginBondi today? :O