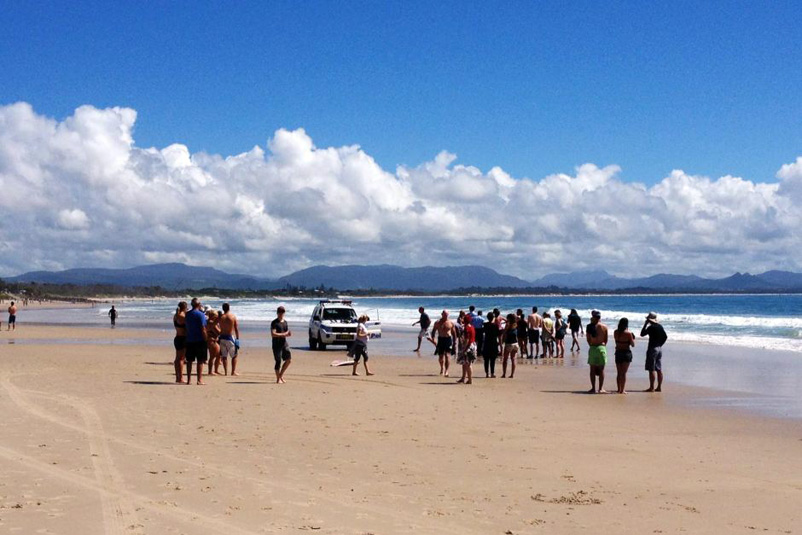 A man has died following a shark attack in Byron Bay this morning.
The victim was in his late 30s to early 40s. It is believed he was surfing alone off Clarkes Beach when he was attacked.
Police said the man suffered a significant injury to his leg.
At around 10:30am the rescuer, who was on a white surf ski, spotted a form in the water. He told Nationwide News: "I thought it was a dead turtle, but then I could see the shark circling and the object moving. The shark came back to him and had another go. I didn't know it was a person — but when I realised I ran out and waded to the bank and grabbed him and did CPR but it was too late. I brought him back in and worked on him on the beach."
The victim had a gash on the leg above the knee and appeared to be dead when he reached the beach.
It is not yet known what type of shark was responsible for the attack.
Police have closed the beach to the public, and the NSW Lifeguard Supervisor is currently on his way to the location to oversee local lifeguards closing the beach and the nearby beaches off for at least the next 24 hours.
Byron Council Lifeguards have closed beaches from Tallows to Belongil for 24 hours. They have warned surfers and swimmers to stay out of the water.
The attack comes a day after 1000 protesters rallied against shark culling on Manly Beach yesterday. The protest was timed to coincide with the installation of nets at Manly for the first weekend this season.
For more details visit ABC news