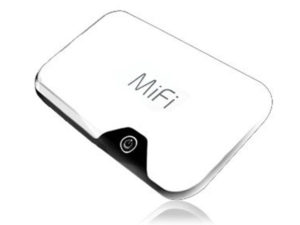 Its one of the first things you think of once you get your accommodation sorted! Your sitting down and suddenly think "Crap what about wifi!"
We wanted to write this article to give you the best advice on portable Wifi when you arrive. Just to let you know this has nothing to do with getting a 12 month contract etc. Because 90% of you reading this will be either coming to Australia on a working holiday visa or on a 457 visa, we think this will be most relevant to you!
MiFi: Getting internet access when you arrive
MiFi is slightly different to those dongles you have probably seen. It is basically the same principal but you can connect up to 5 devices! It also works a lot better.
So – if you're preparing to move, it's definitely worth getting one of these and setting up the WiFi part before you come out; make sure it's unlocked to any network, of course. Sure, you can use internet cafes, wired USB dongles, share Wifi from your jailbroken iPhone, from your handset via bluetooth, etc. etc… but with this, you turn it on, press a button, and it works: End Of. :)
A few questions you might have:
Q. Would want to connect up to 5 devices via WiFi.
Then you would be best off getting either a Telstra Elite WiFi modem, Optus MiFi or a Vodafone Pocket WiFi. I would buy a Vodafone Pocket WiFi as it supports all bands that are used in Australia and you can get a cheap unlocked one off eBay.
There have been reports that Telstra has been quite congested in Metro areas but this is something you should try for yourself.
Q. What would the best option for price/coverage be in Australia?
Telstra or Vodafone due to their 3G 850MHz network. Vodafone is usually cheaper and has more value but with their new mobile plans, this may prove us wrong.
Q. Can you just buy one at the airport, or do you have to go to a store and provide an address (which I don't have in Oz)?
Yeah, at Sydney Airport/Melbourne Airoport there is a Vodafone and Optus shop where you can get it all sorted, you can even buy a dongle there, otherwise a 7/11, pertrol station/servo or Supermarket. Be aware, that you may need to provide ID when purchasing this.
Acceptable ID would be: Drivers Licence, Ausytalian or International Passport, Debit Card, Medicare Card.. Remember you need 100 points of ID.
Q. Im after just good reception, since Virgin/Optus would have low 3G or on 2G most of the time. when 3G was on?
Probably because the Optus 3G network operates on 3G 2100MHz which is rather poor compared to 3G 850MHz which both Telstra and Vodafone use. However, we have read several reports that Telstra congestion is bad in Perth.
To Summarize:
At the end of the day pop into your local such as Havey norman or any tech shop! These can be bought in quite random places and work extremely well!
We just wanted to share that you should look into them as opposed to those dongles which limit you to one device and are not half as good. :)
Hope this helps!